This is the portal for professionals working in the field of intellectual property. Here you'll find direct access to all necessary resources.
Trade marks
Patents
DESIGN
A fatal inheritance: why Barbara Artmann, CEO of Künzli SwissSchuh AG, no longer leaves brand management up to chance.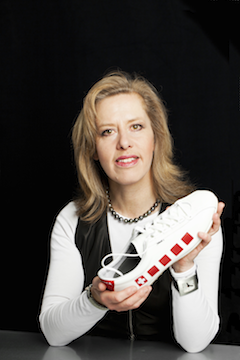 Many managers dream of having their own company. Barbara Artmann dared to take the plunge. After a successful career in the consumer goods, machinery and financial industries, she looked around for Swiss manufacturing SMEs that were up for sale by tapping into her network of connections and looking on M&A platforms and at banks.

The Bavarian found what she was looking for in the town of Windisch in Aargau, where she entered into negotiations with the owners of the long-established shoe factory, Künzli.

"I was aware that the Künzli brands were among its key assets," says Artmann. A due diligence revealed an extensive IP portfolio including IP rights in all important sales markets, such as the name Künzli and the term 'Ortho' for the therapeutic product line.

One IP right was missing, however – the one for the five small stripes that has made the look of Künzli shoes unmistakable since the 50s. Barbara Artmann noticed that it wasn't there: "But I didn't enquire as to whether such product characteristics can be protected as a trade mark".

She took over Künzli AG in 2004 and began implementing her business plan. Künzli developed its first collection of fashionable sneakers based on the historical sports shoe – of course, with the unmistakable five stripes.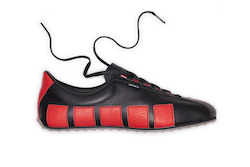 Then came the blow. The American sports shoe company K-Swiss, which had begun as an importer of Künzli shoes in the USA, had registered the five stripes as a trade mark years ago and wanted to prohibit Künzli from using them. A legal battle ensued that lasted 8 years and 37 proceedings and ended to the detriment of Künzli.

The consequences were severe: Künzli was forced to completely re-design its market presence within a few months. A new stronger brand label had to be created. Since the spring of 2012, five stripes no longer symbolise Künzli's 'Made in Switzerland' shoes. Now they use five small blocks.

"Legally," says Barbara Artmann, "we are finally on the safe side." The new trade mark doesn't infringe any existing claims – as shown through international searches – and it was registered simultaneously for all important sales markets.

The 'coup' seems to have been successful. After a dip in sales as a consequence of the change in brand, things are once again heading upwards. In fact, a number of fashion boutiques that had found the old Künzli shoes too sporty have now added the new block-brand sneakers to their range.