This is the portal for professionals working in the field of intellectual property. Here you'll find direct access to all necessary resources.
Trade marks
Patents
DESIGN
Switzerland ratifies the constitutional reform of WIPO
Switzerland yesterday ratified the constitutional reform of the World Intellectual Property Organization (WIPO), thereby accepting an institutional reform drawn up by the member states. The reform amends ten international treaties to which Switzerland is a party, such as the Paris Convention for the Protection of Industrial Property and the Patent Cooperation Treaty.

"The constitutional reform of WIPO simplifies the structures and procedures of this UN organisation", explains Reynald Veillard, Intellectual Property Attaché at the Swiss UN Mission in Geneva. "It modernises the budgetary procedure and facilitates the organisation of the annual meetings of the member states. By approving this reform, Switzerland is emphasising its support for WIPO. It is a reminder of the importance of promoting lean and transparent procedures to enable the organisation to function optimally."

The reform will enter into force once 135 WIPO member states have formally accepted it.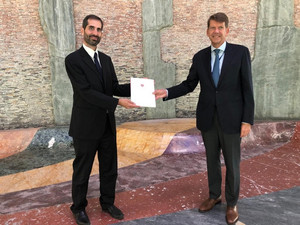 Reynald Veillard, Intellectual Property Attaché at the Swiss UN Mission in Geneva (left) and Frits E. Bontekoe, WIPO Legal Counsel (right)