This is the portal for professionals working in the field of intellectual property. Here you'll find direct access to all necessary resources.
BioInnovation Day in Geneva – the IPI awards prizes for inventions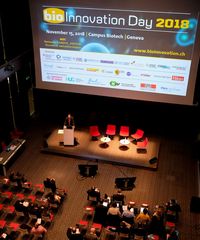 Researchers and start-ups presented a total of 36 innovations to potential investors, industry representatives and technology transfer experts at the Campus Biotech on 15 November. "We are very pleased with how the event went," says Karolina Niewola, the person in charge of organising BioInnovation Day at the University of Geneva. With 182 participants, the event attracted similar interest as the previous BioInnovation Day in Lausanne in 2015.
The IPI chooses two projects
The Swiss Federal Institute of Intellectual Property (IPI) took part in the event on 15 November and sponsored a BioInnovation Prize for two projects. "The quality of the presentations was very high. All participants knew what was called for," says Christian Moser, the IPI's biotechnology patent expert. Mr Moser was a member of the jury, which also awarded an Incubator Prize and an Audience Award. The projects that won were those that could best combine promising ideas with excellent presentation skills.
In his presentation, Mr Moser focused on the importance of patents for start-ups. It is not only important to manage your portfolio, he said, but also to keep an eye on your competitors' patents. An <link en services searches patent-searches-in-general basic-searches assisted-searches.html>Assisted Patent Search can also help during the process of inventing. Here, an IPI expert takes a close look at an innovation together with the researcher, and among other things, examines whether it can be protected.