This is the portal for professionals working in the field of intellectual property. Here you'll find direct access to all necessary resources.
Trade marks
Patents
DESIGN
Cabinet maker with ambition
Exclusivity and protection against imitators - the Appenzeller Thomas Sutter focuses on design protection with his new chair and table models.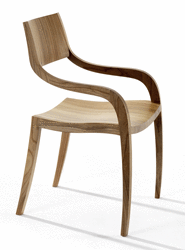 The Swiss spend roughly three billion francs each year for new furniture. In such a market, nobody notices if a young cabinet maker starts his own business and makes designer furniture for demanding customers.
What began for Thomas Sutter in the winter of 2005 in such a small way, developed quickly into something far more significant. The one-man business has grown into an SME with 13 employees which, in the meantime, has its own showroom in the main street of Appenzell. The success brought publicity and with that the imitators.
"For a long time, I gave almost no thought to the subject of IP," Thomas Sutter admits in retrospect. This attitude did not even change when he was nominated for the Swiss Economic Award in 2009 and was explicitly approached by a member of the jury on the subject.
But then chance gave a helping hand. Sutter heard of a competitor who was producing and selling an exact replica of his chair model Peter. "That tipped the scales," says Sutter, "and since then, I register all new models for design protection."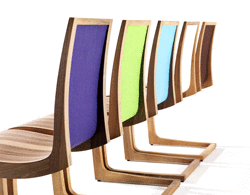 He has already registered nine designs, mainly for tables and chairs. And on all the models concerned the official stamp "Modèle depose" (design filed) is displayed. On the one hand, it should deter potential imitators and, on the other – and almost more important for Sutter – indicate a certain exclusivity for the customer.
The next step for the 28 year old businessman is to see about trade mark protection. Until now, he did not consider it necessary as his company was only well known to insiders. But meanwhile, his clientele is to be found in the whole of Switzerland and in parts of neighbouring countries.
The orange lettering, Thomas Sutter on a black background, has become a signpost in the highly competitive furniture market. "We have created value," Sutter explains, "which we want to handle with care."