This is the portal for professionals working in the field of intellectual property. Here you'll find direct access to all necessary resources.
Trade marks
Patents
DESIGN
Switch cabinets for the New Rail Link through the Alps (NRLA)
Strategic protection through patents: how Swibox AG built up a new business segment

"We were bold," says Hans Ulrich Zwahlen, together with Walter Huwiler, manager and owner of Swibox AG. They are talking about a strategic decision that should catapult the switch cabinet manufacturer, with offices in Balterwil (Thurgau) and Flamatt (Fribourg) into a 'new orbit,' explains Zwahlen.

In 2003, Swibox participated in a tender for the Lötschberg Alptransit. The tender was for switch cabinets in the cross passages between both tunnels. The requirements for density and compressive strength were high. Working nights and at weekends, the small Swibox design team finally found a solution that worked both technically and economically.

"Parallel to the engineering side, we also sounded out the IP situation with a patent attorney," explains Zwahlen. It was found that the in-house development didn't infringe any third party rights and that we could patent it. Two things were in favour of this: firstly, the boxes would be with the customer and could be copied relatively easily, which excluded a strategy of secrecy. "And secondly," continues Hans Ulrich Zwahlen, "the life cycle of a switch cabinet generation is 25 years, so it made sense to go for a long-term exploitation monopoly."

Shortly before the first presentation at Lötschberg Alptransit, Swibox - a former department of Sprecher + Schuh - filed the first patent in the company's history. The pre-investment paid off. Swibox was awarded the tender. The competing companies from Germany and the United States were left standing – as they were six years later when Alptransit Gotthard also opted for Swibox switch cabinets (which had in the meantime been developed further).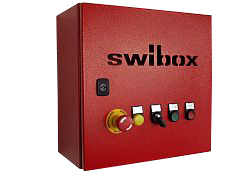 "Our IP strategy is based on three pillars," explains Zwahlen. Constant development, secrecy and patenting. "Without patenting, it doesn't work," he adds. This is what gives the security needed by a company that no longer defines itself primarily as a trading and manufacturing company but rather as a provider of innovative solutions.

So far, this has proven to be the right concept for Zwahlen and Huwiler. Swibox has easily been able to double its turnover in the last ten years. Today, the manufacturing technique is at the level of the automotive industry and wherever in the world there is a call for tenders for switch cabinets with special requirements - for tunnels or airports - Swibox will also be invited to submit.