This is the portal for professionals working in the field of intellectual property. Here you'll find direct access to all necessary resources.
Trade marks
Patents
DESIGN
State-certified creativity - the renowned Zurich industrial designer Beat Karrer is a regular customer at the IPI.

In Switzerland, a good half million products have their design protected. These include fabrics, watches, jewellery and high-priced furniture and coffee machines.

Beat Karrer also designs consumer goods such as furniture, although he is primarily an industrial designer - and one of the most renowned in Europe. He has a workshop in Zurich's District 4, which he calls "The Lab", and sees himself as a service provider for innovative industrial enterprises.

"Engineers often suffer from a kind of tunnel vision," says Karrer. For this reason, many company managers consult an external designer during the innovation process. The designer has the task of embedding technical achievements in such a way that potential clients consider the entire product to be functional and aesthetic.
On a tour of "The Lab", Karrer shows a strip light for outdoor advertising. The customer was confronted with a new LED technology. To ensure that the new light-emitting diodes achieved their maximal service life, the housing had to exhibit the highest possible heat emission. Karrer's solution was to incline the cooling fins towards the viewer. In this way, the new housing has a 40 percent greater heat radiating surface and simultaneously draws attention to the illuminated poster.

"As an industrial designer, my approach is similar to that of a management consultant," explains the 46-year old trained carpenter. He uses an external perspective to break existing habitual ways of thinking. In contrast to the business consultant, however, Karrer has the possibility of protecting his creative output with a registered design.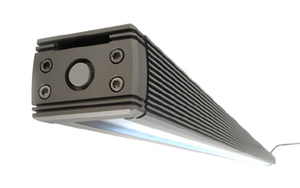 This is an option that brings advantages for all concerned. For the customer, the focus is on the registration of the respective design and drawings, which protects against counterfeiters. The designer, on the other hand, takes advantage of what is, to some extent, state certification of his creative output - because his income consists partially or entirely of licence fees. From his point-of-view, registration with the IPI represents a solid basis for the drawing up of the licence contract.

Alongside a one-off advance payment, such contracts usually include a turnover component. "As a freelance industrial designer," says Karrer, "I live from the success of my designs on the market." He says this completely without emotion. He has accepted the commercial risks that always accompany a share of the turnover: "In return," he continues, "I am free in the choice of my projects."