This is the portal for professionals working in the field of intellectual property. Here you'll find direct access to all necessary resources.
Trade marks
Patents
DESIGN
Pulling no punches - how Prionics, a life science company in Zurich, defends its intellectual property.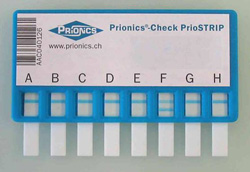 Prionics, which was founded in 1997, gained a world market share of 40 to 50 per cent in the last ten years with their antibody-based BSE tests. One could have lived well from this. Nevertheless, the company with Markus Moser as CEO has launched ten more diagnostic products for cattle, sheep, goats and pigs.
At present, the Prionics' portfolio includes 29 international patents and three or four more are added each year. They come either from their own 20-man strong research department or are licences acquired from the academic world.
"Basically, each of our innovation projects aims at a formal IP right," says Moser. Therefore, the Zuercher have built up a highly complex process which ranges from the combined patent and literature search (technology search) at the IPI as well as a bi-monthly monitoring of all projects and products to the creation of an internal database with selected third party patents.
However, this is not enough for the life science markets because, as has been the case in the pharmaceutical industry for a long time, a kind of balance of terror prevails in these markets. The market operators build up whole protective barriers around their products and fight on all relevant technological fronts for every inch of the market.

"Even we can be very aggressive when it's about our IP," says Moser honestly. For example, Prionics also protect their IP abroad by protecting products with a patent in every country in which a competitor could earn money with an imitation product. "It is not just a question of money, but also a matter of principle," explains Moser.
Prionics does not joke either when it comes to a court case. In Germany, for example, a lawsuit is currently pending because somebody tried to free ride on the back of the company.
There are years when Prionics is forced to invest over a million francs in their IP protection. For a company with approximately 100 employees, this is a lot of money. But Markus Moser is certain: "If we did not do so, we would soon be out of the market."