This is the portal for professionals working in the field of intellectual property. Here you'll find direct access to all necessary resources.
Trade marks
Patents
DESIGN
The Rolls Royce amongst wheelchairs
The patent specification as the crux of the matter - wheelchair manufacturer Küschall in Solothurn attaches importance to details even with IP protection.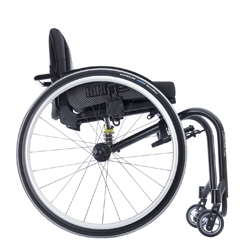 Rainer Küschall is a kind of Steve Jobs in wheelchair construction. Since he launched his company in 1978, he sets worldwide trends. In 1986, he even won the Design Award of the New York Museum of Modern Art with his model "Competition".
For a long time, Küschall was an unchallenged trendsetter in the upper price and quality segment. However, since the end of the 90s the landscape has changed - suppliers from Italy and Germany also started pushing their way into the superior market.
"We were forced to build up professional IP management," Rainer Küschall remembers. Today, at headquarters in Witterswil where the wheelchairs are developed and assembled, detailed search and test processes have been implemented. These ensure that innovations are checked as quickly as possible for commercial potential and thus for patent worthiness.
Küschall and his technicians attach particular importance to the wording of the patent specification. It is drawn up by a patent attorney, but the text is then intensively counterchecked by the Küschall professionals involved. The whole point of doing this? "Those concerned place themselves in the role of a potential imitator," says the boss. In this way, the aim is to find out where the text has loopholes and therefore where protection could be easily bypassed.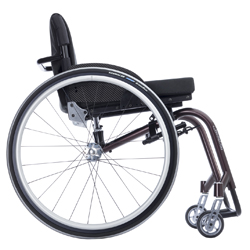 The background to this procedure is a case from the recent past. Küschall had applied for a patent for an innovative braking procedure. It was promptly copied; the Solothurner immediately took legal action but had to accept that they would have no chance at all in court.
The reason being that the patent had not registered the invention precisely enough, with too little reference to the really decisive technical details. In the case of the brake, Küschall lost an important unique selling point. "Since then, we know that it is the same with patent specifications as with design sketches - what counts is perfection down to the very last detail" commented Rainer Küschall.
Altogether, Küschall AG manages 14 active patents; in addition, two trade marks have been filed and six designs protected.