This is the portal for professionals working in the field of intellectual property. Here you'll find direct access to all necessary resources.
Trade marks
Patents
DESIGN
The sic! journal in partnership with the Helbing Lichtenhahn Verlag from 2021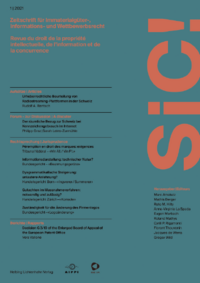 The sic! journal for intellectual property, information and competition law has been published since 1997 and is indispensable to the professional community. For more than 23 years, an independent editorial board has ensured that this high-quality publication keeps Swiss IP lawyers up to date with the latest case law and academic discourse. It is supported by the IPI, the International Association for the Protection of Intellectual Property (AIPPI Switzerland), 14 further professional organisations, as well as numerous subscribers.
From January 2021, the sic! journal will start being issued by the sic! foundation and published by the Helbing Lichtenhahn Verlag. The content and quality will remain unchanged.