This is the portal for professionals working in the field of intellectual property. Here you'll find direct access to all necessary resources.
Trade marks
Patents
DESIGN
Better international protection for Swiss quality products
Georgia and Switzerland have today signed a bilateral agreement on the mutual protection of their geographical indications and the indication of source Switzerland. The agreement protects well-known Swiss indications and thus contributes to the preservation of the reputation of Swiss quality products over the long term. "Geographical indications and indications of source are an important marketing tool for Swiss quality products, also in the export sector," said Catherine Chammartin, Director General of the Swiss Federal Institute of Intellectual Property (IPI) during the signing ceremony.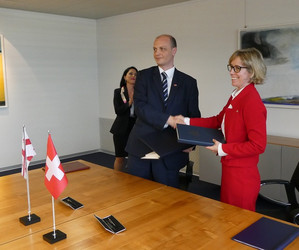 Signing of the bilateral agreement on geographical indications and indications of source by the chairman of the Georgian National Intellectual Property Center Sakpatenti, Nikoloz Gogilidze, and the director general of the IPI, Catherine Chammartin, on 31 May 2018 in Bern.