This is the portal for professionals working in the field of intellectual property. Here you'll find direct access to all necessary resources.
Trade marks
Patents
DESIGN
"Small but significant"
Designs spice up our goods and products. Just think of Nespresso machines, Swatch watches, Corbusier loungers and Toblerone packaging. We talked to Beat Schiesser, who has managed Design Protec-tion at the IPI for more than 35 years, about the most recent intellectual property right.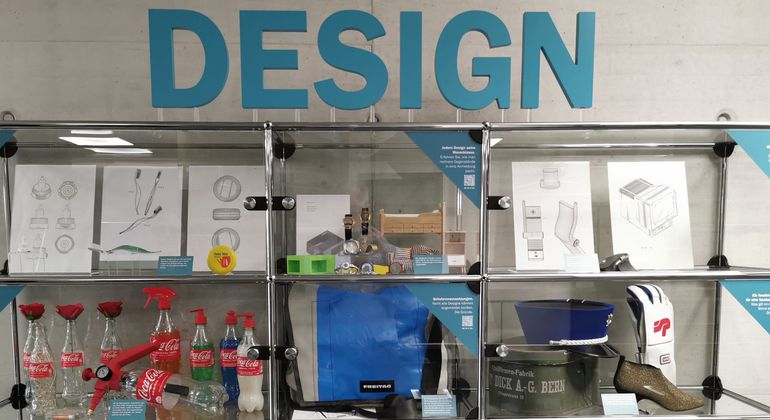 Mr Schiesser, are there any Swiss designers that you have come to particularly ap-preciate during your time as Head of Design Protection?
Beat Schiesser: Antoine Cahen from the Lausanne-based Les Ateliers du Nord springs to mind. He's been in the business for decades, his work is great and he's responsible for the typical design of Nespresso machines.
If Antoine Cahen were to build houses, sing, paint or write, he'd be a star...
Probably. Maybe he would even like to be more well-known. But designers are very much in the background. They work on behalf of companies, and their names are very rarely visible at the point of sale. In fact, they are also practically invisible to the IPI. Because it's generally the contracting companies that register designs with us. Consequently, we don't know at the IPI how many freelance professional industrial designers are active in Switzerland, for example.
Which industries register designs?
Above all, the consumer goods industry, as well as the packaging sector. Appearance and form always play a role in the marketing of cosmetics, cleaning products, household devices, watches and foodstuffs.
Do you have other client groups outside of industry?
We also have dealings with tradespeople, such as joiners and metalworkers. And finally, there are private individuals who produce designs in their free time.
In the reporting year, around 700 appli-cations for protection were submitted for a total of 3,000 individual designs. That's not a lot, compared with applica-tions for trade mark registration, for ex-ample, which number practically 18,000.
You're forgetting the designs that are registered with the World Intellectual Property Organization (WIPO) in Geneva. Every Friday between 10am and 2pm, we receive a dataset from WIPO. Each dataset contains between 100 and 150 registrations with over 1,000 designs, whose owners seek protection in Switzerland. We examine these designs materially and ensure, for example, that they don't contain any offensive elements. Multinational companies, such as Swatch, register all their designs with WIPO.
In a survey carried out for the IPI, the de-sign applicants complained that design protection is difficult to enforce in Switzerland. Why is that?
I need to give you some background information on this first. Worldwide, car and consumer electronics manufacturers register a great deal of designs. In these two industries, disputes about protection can quickly result in claims for large sums of money. But as designs generally have a brief lifespan, producers tend to concentrate their legal protective measures on major markets. As a result, court cases rarely occur in little Switzerland. There is no long-standing legal practice in Swiss design law, in contrast to the situation in patent and trade mark law. That is what is meant when you hear people talking about the difficulties of enforcing design rights.
How does that affect the daily work of designers?
We see that most disputes about protection are resolved out of court, for example disputes about licensing agreements.
The Designs Act came into force on 1 July 2002, which makes it the most recent industrial property right. It is also to a certain extent the smallest. Are there any studies on the economic relevance of design rights?
The European Union Intellectual Property Office (EUIPO) in Alicante, which is also responsible for design protection, published a study on the subject several years ago. Even I found the results astounding: a fifth of all consumer goods sold in the European Union (EU) enjoy design protection. We're talking about products that generate revenues in the billions for their manufacturers year after year. I should point out, though, that designs are automatically protected against imitators in the EU for three years from the date of their market launch. This is not the case in Switzerland.
You and your colleagues in the Trade Mark & Design Division are not just re-sponsible for professional design appli-cants. You also provide information to lay people and first applicants. What is the most frequently asked question?
(He laughs) Can we patent 'this'?
We generally start by explaining the basic principles. Firstly, you can't protect ideas either in Switzerland or anywhere else in the world. Secondly, only inventions that solve a problem with technical means can be patented. A draft design does not meet this condition. That's why design protection exists. In the past, we talked about two-dimensional samples and three-dimensional models. However, since the Federal Act on the Protection of Designs came into force in mid-2002, we have only referred to 'design', a small but significant niche product.
This may be rather sobering information for callers. How do they react?
Our discussions often turn out to be very interesting. I remember one of my first conversations with Daniel and Markus Freitag. They explained their idea of making bags from used truck tarpaulin. Their initial disappointment at discovering that ideas can't be protected didn't last long. Because it emerged that the bags, which are now distributed worldwide with the label 'Freitag', had plenty of elements that could be protected: seams, edges and straps. Later, the brothers told me that they had considerable cause to be grateful for the IPI's information.
There's a rumour that you were once phoned by Hans Rudolf Giger, the late creator of the monster in the film Alien. Is there any truth in that?
Yes, I did indeed have Mr Giger on the line once. I didn't realise at first that it was the Mr Giger. He was annoyed about imitations of a table he designed. I just listened. His view was that he was an artist and his creations were therefore protected by copyright. That is not generally the case, however. In practice, it depends on the judge's discretion. When he understood that, an amazing conversation developed.
Is the distinction between a design and an artistic creation really as clear-cut as the law suggests?
There are in fact some cases of overlap: a famous example is the lounger created by Charles-Édouard Jeanneret-Gris, known as Le Corbusier. The Federal Supreme Court confirmed that it's subject to copyright and that it can't be produced or distributed without authorisation from the heirs of Le Corbusier.
According to the law, design protection can be renewed after five years for another five years up to four times. There are nonetheless designs that are still protected decades after their market launch, such as Toblerone.
Proprietors of a design have the option of protecting their design as an indefinitely renewable shape trade mark. The hurdles are high, however. The proprietor must provide prima facie evidence, for example via a representative survey, that their design has become established in the market, i.e. that their design is seen by the public as an indication of its commercial origin. This is the case for the Panton Chair. If the application is successful, the item in question finds itself in a kind of paradise for iconic designs.
What can you register as a design and what do you need to bear in mind when doing so? Find tips on design protection here.
Back to all blog articles
Share article